With the top finished and stowed safely under a mattress in the spare bedroom I am on to the base. It is not going to be your usual four legs and an apron, however it will in fact include those elements. Here is a photo of the parts + spares, rough milled, settling and awaiting further instruction.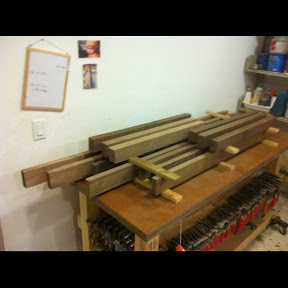 This is the waste, which was not much really...
This is the mockup with some joinery brainstorming drawn in.
You can see that the top will actually rest on stretchers that span across the long aprons. I'm going to go back to live tenons into the legs from the aprons but the stretcher/apron joints will b a series of four horizontal floating tenons. More about all of this later.